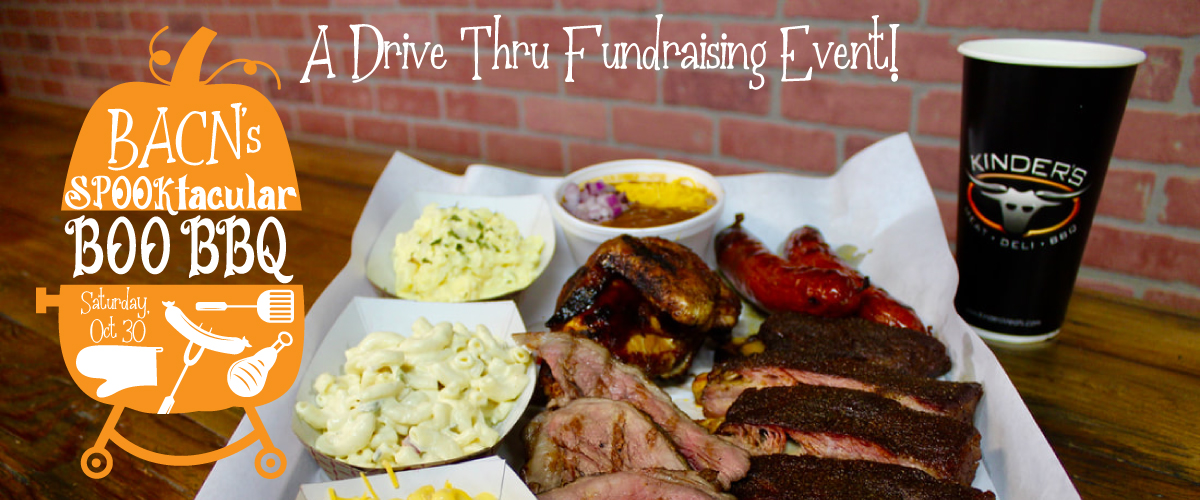 Halloween Spooktacular Drive Thru BBQ
---
The Bay Area Crisis Nursery is kicking off the holiday season with a Spooktacular Drive Thru BBQ event! The holiday season is a time filled with giving thanks and giving back. It's a spectacular time around the Nursery.
Join us for a drive thru BBQ event the day before Halloween! You'll get to virtually meet some of the families who have benefitted from Nursery services over the past year and learn how you can support BACN's clients during the holiday season.
Tickets are $40, which includes a $20 donation to the Nursery. Choose your pickup time when purchasing your tickets. Time slots are limited, purchase early! Register before Oct 25.
We are also selling discount cards for $15 each. You can pick them up with your meal, or we can ship yours to you. Discount cards offer up to 20% off local merchants. Check back for more details.
Highlights for the evening include:
Enjoy a Kinder's 3 piece meal which includes Tequila Lime Ribs, Marinated Ball Tip, Quarter Chicken, served with Potato Salad, BBQ Beans, and a bread roll.
Meet our clients and hear their stories from home.
And a Treat Bag for dessert!
Oct 30, 2021 | 4 pm – 6 pm
Location: 1510 Mendocino Dr, Concord
Continue Your Support
Learn more about how to support BACN during the holidays. Check back for more information coming soon!