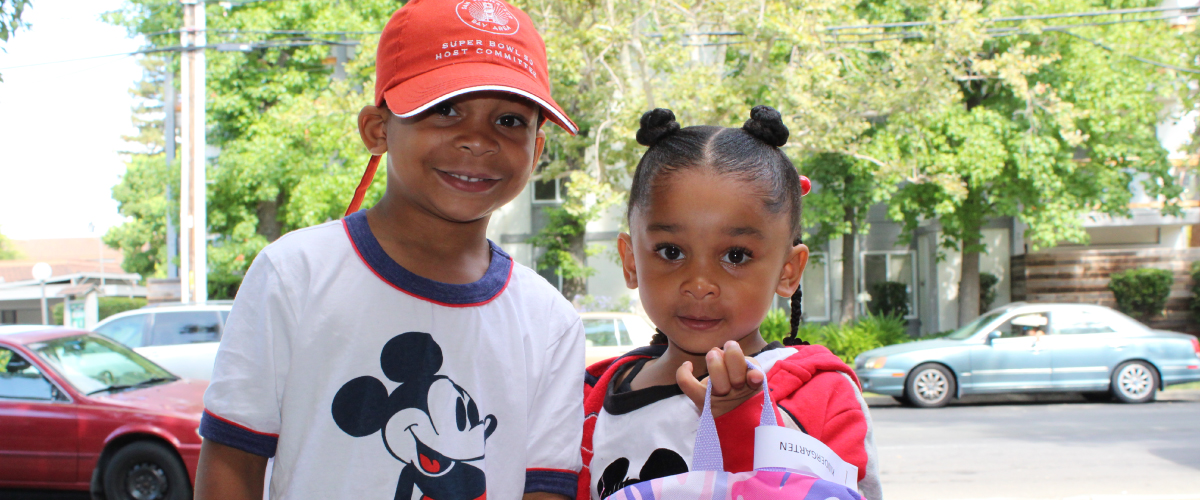 Back-to-School Backpack Giveaway
---
Too many families in the Bay Area are struggling with paying rent and providing food for their families. Can you imagine adding the burden of buying school supplies? We can. And that's why we support our clients and community each year by giving out fully-stocked backpacks.

You can make a difference in the lives of low-income families and students by donating school supplies, hosting a backpack drive, or giving online!

Organizing a backpack drive is simple, easy, and fun!
Select the dates of your drive. We suggest that you hold your drive for at least one week.
Get the word out! The more people who know, the more successful your drive will be. Post on social media (Facebook, Twitter, LinkedIn, NextDoor), send out text messages, email friends and neighbors, and call everyone you think would be interested in giving.
Distribute our flyers. Print our flyer and add your contact name, phone number, dates, and the address of the drop-off point, and copy as many as you need. Distribute it to everyone who will be participating in the drive.
Set up the drop-off point. Make sure the drop-off location is easily accessible, secure, and protected from weather. Crayons melt in the Bay Area sun. Advertise it by putting up a poster on the door, window, or wall. 
Collect, collect, collect! Enjoy all of your hard work and watch the backpacks come together, knowing that you are supporting families who truly need your support. We offer fully-stuffed backpacks to each of our children. Make sure to check each bag's contents to make sure that everything on the list is given to each child. Update your supporters with a list of items still needed.
When the drive is over, deliver fully-stuffed backpacks to BACN!

Pickup a Backpack!
Sat, Aug 1, 2020 | 9 am – 4 pm
Location: 1512 Mendocino Dr, Concord ​
---
Suggested Donations
We have compiled lists from the Mount Diablo Unified School District. Download our flyers to see a complete list of items for each age group.
We will be accepting donations between Jul 13 - Jul 27, 2020 | Mon - Fri 10 am - 5 pm